EQUIP Leadership Canada empowers our partners and encourages Christian leaders around the world by affirming the basics of the Christian faith – the Gospel and redefining Christian leadership
A focus of EQUIP Leadership Canada is building global Christian community. The question: How can we best connect countries and regions to create this tapestry?
As EQUIP Leadership Canada was invited into more areas of the world, it became evident that there was a need to identify common connection points of countries and regions to better serve and link them to one another.
ELC developed what we refer to as a 'hub model' – an identified central region linking surrounding areas and peoples through one or more of the following common connection points:

ELC, along with its partners, is seeing the success of this approach. Global ministries are meeting through ELC initiatives. The common connection points, through our hub model, are facilitating the building of relationships among and between the different ELC Partners. These newly formed relationships are giving rise to collaboration and innovation in bringing the Good News of God's grace to people around the world, as Jesus intends.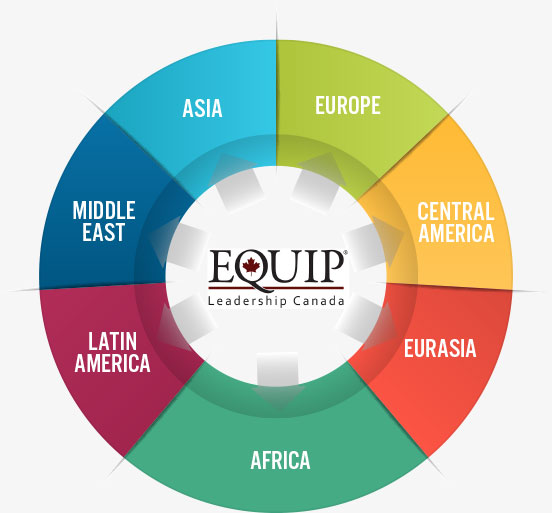 EUROPE
ALBANIA
International School of theology and Leadership (ISTL)
– Bible School/Emerging Church
Partner:
2012
Hub:
Balkan Region
---
AZORES
Azorean Baptist Association
– Isolated & Conservative Evangelical
Partner: 2018
Hub: Portuguese Speaking World
---
PORTUGAL
Convenção Baptista Portuguesa
– Family of Churches/Conservative Evangelical
Partner: 2017
Hub: Portuguese Speaking World
---
UNITED KINGDOM
One Church, Gloucester
– Emergent/Millennial Church
Partner: 2015
CENTRAL AMERICA
GUATEMALA
Hope of Life (HOL)
– NGO
Partner:
2012
---
MEXICO
Lost & Found International
– NGO
Partner: 2019
---
PANAMA
Kevin and Maria Martens, Avant Ministries
– Mission Agency
Partner: 2018
EURASIA
RUSSIA
Agape Unlimited
– Medical Mission
Partner: 2020
Hub: Eurasia
AFRICA
CAPE VERDE
Bible Church/Baptist Church Mindelo
– Conservative Evangelical
Partner:
2020
Hub:
Portuguese Speaking World
---
ETHIOPIA
Friendship Support Association (FSA)
– NGO/ Emergent & Nomadic Church
Partner: 2017
Hub: Northern East African Countries
---
KENYA
Leadership Institute of Kenya (LIKA)
– Mainline Protestant/Conservative Evangelical
Partner: 2020
Hub: Southern East African Countries
---
MOZAMBIQUE
Beira Bible Institute
– Bible School/Conservative Evangelical
Partner: 2020
Hub: Portuguese Speaking World
---
RWANDA
Bridges Beyond
– Mission Agency
Partner: 2016
---
SÃO TOMÉ & PRÍNCIPE
STP Baptist Convention
– Traditional African Church
Partner: 2019
Hub: Portuguese Speaking World
---
ZIMBABWE
Gloucester UK /One Church Zimbabwe
One Church
– Colonial African Church
Partner: 2017
LATIN AMERICA
BRAZIL
SEPAL
– Mission Agency
Partner: 2020
Hub: Latin America
Emmanuel Mission – UNIEDAS (Indigenous Mission)
– Mission Agency
Partner: 2019
Hub: Latin America
AMIDE
– Mission Agency
Partner: 2021
Hub: Latin America
MIDDLE EAST
EGYPT
One Church, AOG UK
Hub: Middle East
Partner: 2015
ASIA
PHILIPPINES
Philippine Council of Evangelical Churches (PCEC)
– National Evangelical Alliance
Partner:
2020
The My Brother's Keepers (MBK)
– Christian Police Officers Organization
Partner: 2020